Every Scouting activity moves young people toward the basic aims of: character development, citizenship training, leadership, and mental and physical fitness.
Advancement is one of the eight methods used by Scout leaders to help youth fulfill the aims of the BSA. Scout leaders need to understand the mechanics, policies and procedures of Advancement. National BSA has published the Guide to Advancement for this purpose.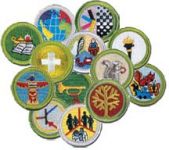 Merit Badge Counselor
Information & Renewal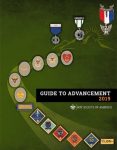 BSA's online unit management tool Scoutbook helps Scouts, parents and leaders track Advancement and milestone achievements along the Scouting trail. Scoutbook runs on mobile platforms as well as on a laptop, providing a seamless and effective way to track Advancement and stay synced with the council database. There is no charge for downloading and using this app. An introductory video and user guides for Scoutbook can be found at by clicking here .
General Council Advancement Policies
IUnit advancement records can be submitted to council using the Scoutbook advancement-sync feature, Internet Advancement, or by using the paper form, Advancement Report form #34403. The Council goal is to have 100% of Units using either Scoutbook or Internet Advancement, moving away from paper submission.

To purchase rank badges from the council store, the Unit must submit an advancement report to the council store that is properly signed by the members of the board of review. Units may FAX advancement reports to the council store at (603) 622-5071.

The Application for Merit Badge (#34124) formerly referred to as a "Blue Card" is no longer required as an attachment to the Unit Advancement Report Form. They should be retained by the unit, and not sent to the Manchester Scout Store, or the council service center. It is incumbent on the unit to assure, prior to a boy working on a merit badge, that the counselor is properly registered, and is listed on the approved council/district merit badge counselor roster. This roster is provided at least annually & updated regularly. It is available from your district leadership.