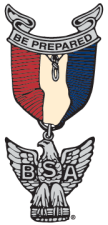 Eagle Project Idea Generator
The Eagle Project Idea Generator offers a decision-tree approach for giving you a few project ideas on which you can develop your own project. It is not intended to take the work out of identifying a project for you; instead, these are only ideas of what might be done.
The fact that a boy or girl is an Eagle Scout has always carried with it a special significance, not only in Scouting but also as they enter higher education, business or industry, and community service. The award is a performance based achievement whose standards have been well-maintained over the years. Not every Scout who joins a Scouts BSA troop earns the Eagle Scout rank; only about 5 percent of all Scouts do so. This represents more than 1.7 million Scouts who have earned the rank since 1912. Nevertheless, the goals of Scouting—citizenship training, character development, and personal fitness—remain important for all Scouts, whether or not they attain the Eagle Scout rank.
To earn the Eagle Scout rank, the highest advancement rank in Scouting, a Scout must fulfill requirements in the areas of leadership, service, and outdoor skills. Although many options are available to demonstrate proficiency in these areas, a number of specific skills are required to advance through the ranks—Tenderfoot, Second Class, First Class, Star, Life, and Eagle. To advance, a Scout must pass specific tests that are organized by requirements and merit badges.
Merit badges signify the mastery of certain Scoutcraft skills, as well as helping boys increase their skill in an area of personal interest. Of the approximately 120 merit badges available, 21 must be earned to qualify for Eagle Scout. Of this group, there are several required badges. Please see the current Eagle Scout Application for the current list of required merit badges.
The Eagle Scout Service Project
The Eagle Scout Service Project, or simply Eagle Project, is the opportunity for a Scout (Scouts, B.S.A.), or qualified Venturer or Sea Scout to demonstrate leadership of others while performing a project for the benefit of his/her community. This is the culmination of the Scout's leadership training, and it requires a significant effort on his or her part. The project must benefit an organization other than the B.S.A., and it cannot be performed for an individual or a business or be commercial in nature. Eagle projects are approved by the Eagle Board supporting the district in which the Scout resides. See  https://nhscouting.org/advancement/life-to-eagle/contact-your-district-eagle-board-chair/ for a list of Eagle Boards per district.
Daniel Webster Council Policy on Solicitation of Funds for Eagle Scout Projects
Consistent with the CHARTER AND BYLAWS OF THE BOY SCOUTS OF AMERICA (June 2019, page 19), which states: "Youth members shall not be permitted to serve as solicitors of money for chartered organizations, for the local council, for the National Council, for corporate sponsors, or in support of other organizations," District Eagle Boards shall not approve Eagle projects that utilize systems or platforms, electronic or otherwise, that are to be used for the purposes of soliciting money. Contact your District Eagle Board representative for more information.
Scouts with disabilities may qualify for the Eagle Scout rank. The Scout must earn as many of the required merit badges as they can. They submit an application for alternate merit badges. The BSA local council determines the alternate merit badges for the Scout to earn.
National Eagle Scout Association
Founded in 1972, the National Eagle Scout Association (NESA) maintains contact with Eagle Scouts to sustain their interest in Scouting. Any Eagle Scout may join the association. Applications for membership in NESA are available through your local council, on the BSA Web page (www.scouting.org), or by contacting the Eagle Scout Service at the national office.
Distinguished Eagle Scout Award
The Distinguished Eagle Scout Award was established in 1969 to acknowledge Eagle Scouts who have distinguished themselves in business, professions, and service to their country. Only Eagle Scouts who earned the Eagle Scout rank a minimum of 25 years previously are eligible for nomination. The award is given by the National Eagle Scout Service upon the recommendation of a committee of Distinguished Eagle Scouts.