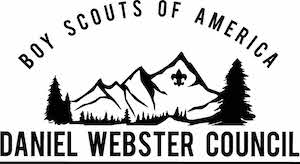 We are looking forward to a very exciting summer camp season.
Thank you to all of the Packs, Troops, and Crews who have secured their reservations for our 2020 summer programs. This information is beneficial as we prepare for your arrival this summer. We want to reassure everyone that IF our summer camp programs are canceled or rescheduled and your scouts are unable to attend, we will refund those fees. 
We are working each day to make sure our camps are open and ready to operate as scheduled.
If you have any questions about the upcoming summer camp season, please send us an email at camping@nhscouting.org
Fundraising and Fees
We've heard some concerns from units about continuing spring fundraising, and still being able to pay camp payments. We are excited to let you know that we are going to honor the Early Bird fees through the start of camp. We hope this will allow your Scouts to pay their way to camp and not worry about additional costs.
Also, all Daniel Webster Council spring fundraisers are extended through May and June.
You can read more about these details by visiting this link – https://nhscouting.org/daniel-webster-council-spring-fundraisers-extended/ 
Camp Payments 
Mail that is being sent to the council office is being picked up and processed. If your unit mailed your camp payment we will be applying those payments to your Doubleknot registration.  Please make sure your camp coordinator has uploaded all of your Scouts and adults into your summer registration on Doubleknot. Once you have done so, you will be able to view those payments credited to your registration.
You can still register your unit at the following link – https://nhscouting.org/summer-camp.
Camperships
The campership application deadline is April 15th. Please be sure to communicate with your unit leadership about any individual financial assistance that may be needed. Applications must be filled out entirely. They will be sent back if details are missing. The information on the application is necessary to assist the committee in reviewing the application. You will find the campership form by clicking the following link –  Campership Form 
Medical Forms
It has been communicated to the Camping Department a concern regarding Part C of the Medical Form.  We are aware that families who scheduled their camp physical in advance of summer camp and those appointments have either been rescheduled to a later date or cancelled. We are required to adhere to the strictest policies, and this portion of the medical form is still required. 
At this time, we have not been provided guidance as to if there will be a relief from meeting this requirement, or even an alternative to meet the requirement. We apologize for the inconvenience. We are diligently working through this challenge with our peers across the country. Once we have additional information, we will make sure that we distribute it widely and place it on our website – https://nhscouting.org.