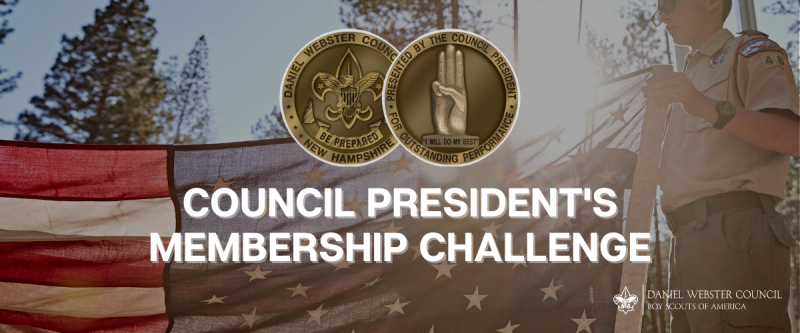 *NEW* July 1st to December 31st Incentive Extension
The President's Membership Challenge.  If your UNIT recruits 5 new youth members to Daniel Webster Council (no Webelos crossovers count; five new to Scouting members, or re-signing up Scouts after a one-year absence from Scouting) between July 1st to December 31, 2021, once those recruits are verified you will be deemed to have done "outstanding performance"for Scouting in NH and will receive the limited edition President's Challenge Coin. The unit will determine who is most deserving of the challenge coin.
But wait, there is more! From July 1st to December 31, 2021, if your unit recruits 5 new youth and you submit the information using the Council President's Membership Challenge Form, your unit will earn additional funds to use towards your Scouting program! Funds are limited to the first 30 units so start recruiting today!
Details
The first 10 Units (claims 1-10) that recruit 5 or more youth and submit their information for the President's Membership Challenge will receive $200 deposited into their unit account. 
An additional 10 units (claims 11-20) will receive $150 deposited in their unit account.
Finally, an additional 10 units (claims 21-30) will receive $100 deposited into their unit account.