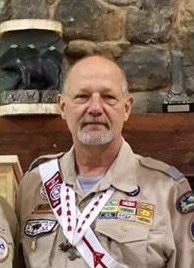 Rick Mason to be awarded Silver Antelope Award
The Silver Antelope Award is the regional-level distinguished service award of the Boy Scouts of America and recognizes outstanding service to young people within one of the four regions of the BSA.  The award is made by the National Court of Honor and the recipient must be a registered adult member of the BSA.

Rick has provided exceptional service to the BSA during his tenure of scouting, spanning 58 years of service to youth programs.  Rick earned his Eagle Scout in 1973 and since that time has accepted the lifelong challenge of becoming an Eagle Scout.  Eagle Scouts extend a helping hand to those who toil up Scouting's trail, just as others have helped them in their climb. The performance of "Doing a Good Turn Daily" takes on a new meaning when the Eagle Scout enters adult life and commits to continuing a path of service to others.

At the Scout unit level Rick's service has included serving as chartered organization representative, and was a former Scoutmaster to Troop 164.  Awarded for his service to the District, he is a previous recipient of the District Award of Merit. Rick served as District Chairman, Committee Member and as Merit Badge Counselor.  For his service to the Daniel Webster Council, Rick previously received the Silver Beaver Award.  A current Vice President of the Daniel Webster Council Executive Board, Rick has held multiple positions on behalf of the council including Council Commissioner, Camp Carpenter Staff, Council National Eagle Scout Association (NESA) Chairman, Council Camping Chairman, and Properties Vice Chairman and he actively supports the Passaconaway Lodge, Order of the Arrow.  His service extends even further to Area and National level of the Boy Scouts of America including serving on the Area Commissioner Task Force, National Order of the Arrow Section Conference, and for decades has served on multiple National Jamborees including more recently as National JamboreeeSubcamp Commissioner.  
Rick's awards include Eagle Scout, Silver Beaver Award, District Award of Merit, Order of the Arrow Vigil Honor, Order of the Arrow Distinguished Service Award, National Distinguished Service Award, NESA Silver Wreath, Council President's Award, Outstanding Eagle Award, James E. West, multiple Scouter Training Awards, Scouter's Key, and Woodbadge.
In his professional capacity, Rick worked with the National Fallen Firefighters Foundation coordinating their education and training programs. From 1996 to 2011, he served as the Director of the Division of Fire Standards and Training and Emergency Medical Services for the State of New Hampshire. Prior to that he worked in senior roles, from firefighter to Deputy Chief, for fire departments in Portsmouth, Nashua, and Lebanon, New Hampshire.  Rick holds a Bachelor of Professional Studies degree in Public Safety Management from Granite State College and an Associate in Applied Science degree in Fire Protection from New Hampshire Technical College, Prescott Hill.
Rick currently resides in Portsmouth, NH with his wife Kathleen.  He is a proud father and grandfather.