Upcoming Popcorn Order Deadline
The deadline for units to submit their Replenishment Popcorn Order is Monday, September 19th. 
Thank you to those that have signed up as Kernels; if you haven't, don't delay and register your unit with this Sign Up form.
The next anticipated Popcorn distribution day is Thursday, October 6, 2022, from 1 pm – 5:00 pm at Ray The Mover, 1 Allard Drive, Manchester, NH 03102. (Middle loading dock near garage or South from the entrance of the main office door).
More Ways to Sell & Book Storefront Locations
Trail's End assisted us in booking over 7700 hours of storefront locations in New Hampshire we still have unclaimed hours. Book your storefront location today!
Parents looking for a way to raise funds for your Scout – sign up today, contact Bianka at development@nhscouting.org to pick up an order within 48 hours, and book a storefront location. It is that easy! Secure some product today to sell.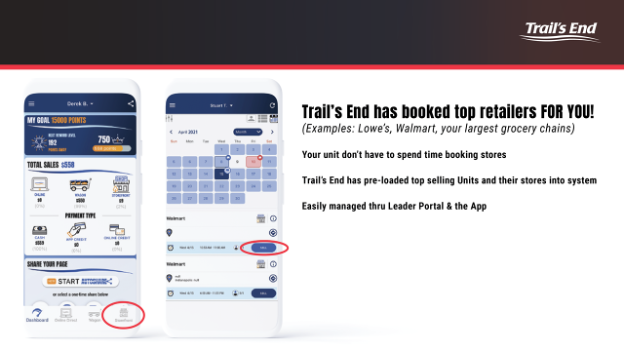 Other Things to Know
All Youth that raises $250 or more will receive a patch. Patches will be distributed at the end of the sale.
We have popcorn inventory still available. If you need any extra products, please coordinate with Bianka at development@nhscouting.org or 603-854-9626
Be sure to check in occasionally for updates for Popcorn 2022: Popcorn Sale – Daniel Webster Council (nhscouting.org) and on Facebook at DWC Kernel Korner | Facebook
Please click here for Trail's End YouTube Training videos – Trail's End Popcorn – YouTube