College of Commissioner Science
October 24, 2020
9 am to 5 pm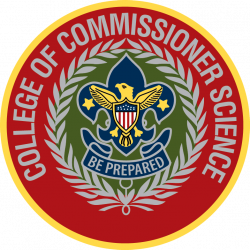 All Commissioners and other Leaders interested in seeing that our youth receive a quality Scouting program. Those looking for guidance; those who want to get a broader picture of Scouting; those who are looking for some hints on how to be more effective; those who enjoy sharing your experience with others; those who are looking for a way to "get in touch" with other Scouters.
If you fit into any of the above – then – the College of Commissioner Science is for you.
Our goal is simple – to make this the best training experience you've ever had!
To prepare for registering for the College of Commissioner Science, please review the 2020 Course Catalog and the 2020 Schedule.
Please read this important message.
How will the College of Commissioner Science work on Zoom?
Once you have registered for the college and selected the courses you want to take, you will receive an e-mail invitation with a URL that you will need to enter into your computer on the day of the college between 8:45am and 9:00am.  You will enter what ZOOM calls a "Waiting Room".  There will be a brief opening, and then you will be assigned to a "Breakout Room" for the first class for which you registered.
Please note, assignment to the "Breakout Room" class for which you registered will be centrally controlled.  You will NOT be able to change your class selections.
There will be 7 class sessions during the day starting at 9am with the last session starting at 4pm.  There will be no session at noon so everyone can break for lunch.
All classes are 50 minutes long and will begin on the hour and end ten minutes before the next hour.  Your instructor will take attendance in order for you to get credit for the course.  Once the class is over, you will be sent back to the "Waiting Room" where you will be reassigned to your next "Breakout Room" class.  During these ten minute intervals you can step away from your computer in order to take care of any personal business. 
If you have decided not to take a class during one or more of the 7 sessions, you can sign in or out anytime during the day.  You should sign into the "Waiting Room" during the 10 minute interval between classes in order to allow time to be assigned to the appropriate "Breakout Room" class.
Once the college is over for the day, course completions will be tallied for each participant and appropriate certificates will be mailed out.
There are 27 courses being offered.  For those who want to take more than the 7 classes on the day of the college or who cannot attend for all or part of the day, all of the classes will be recorded so that participants can go to the Council website and register to take any of them at a time of their convenience. 
After registering, check your email for your confirmation and Zoom meeting invitation.
Unauthorized access to the Zoom session or sharing the Zoom link with others is strictly prohibited.
After registering, download and complete the record card for the certificate or degree program that you anticipate completing at this session and obtain the required signatures.
Email this form to Joseph Mahoney