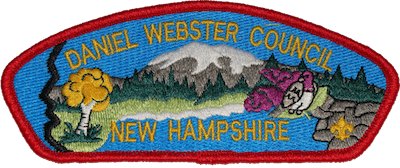 Nearly a year ago the Daniel Webster Council had announced the insurance fee paid by members would increase to $12 per member.  In the Fall of 2019, National BSA announced a substantial increase in membership fees with noticeably short notice. As a result of National BSA's announcement, the Executive Committee of the Daniel Webster Council voted and approved the lowering of the insurance fee for a period of one year, and that the fee would go back to $12 in 2021, which was communicated last Fall.
As we were all made aware of a few weeks ago, National BSA announced another fee increase of $6 per member effective August 1st, 2020.  To assist units with controlling membership cost, the Executive Committee voted to reduce the insurance fee from $12 to $6 for 2021.  This should allow units to be in a net neutral cost position from a fee perspective in 2021.
The Executive Committee also decided that it would not increase the fee by the remaining $6 in 2022, but elected to space out the increase over time, such that the DWC insurance fee would be as follows:
2021 – $6
2022 – $8
2023 – $10
2024 – $12
The reason for spreading it out is we anticipate that National BSA may raise membership fees over the next few years. By knowing the planned increases of the DWC insurance fee, then you can better plan your budgets. By spreading these increases over these four years, the Daniel Webster Council is subsidizing nearly $200,000 of costs for the units.
Going forward, we need your continued support by participating in Friends of Scouting, camping operations, and various other fundraising initiatives throughout the year. All of which stay in NH to support the youth of the Granite State.